TTX 36 EC
Following Öhlins successful introduction of mechatronic as
a factory option on bikes such as the 1199 Panigale S and
Multistrada 1200S, we have made mechatronics an option for the aftermarket.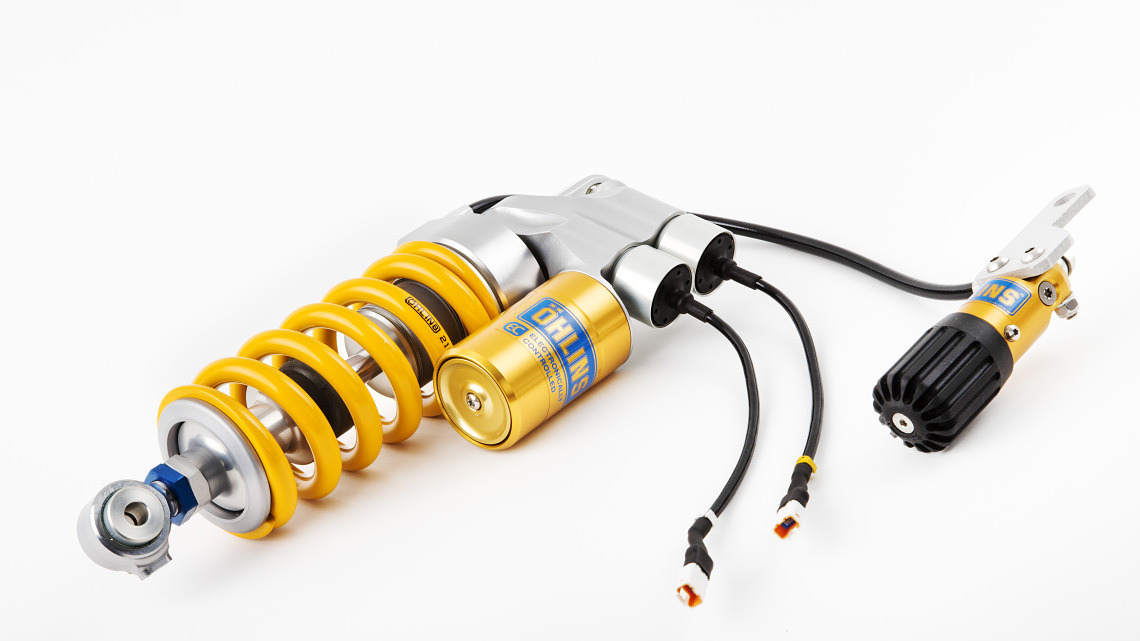 Description
Based on the successful experiences in World Superbike in 2008, Öhlins R&D team set out to make a shock absorber that would deliver the best possible performance on the race track, while still retaining comfort and suppleness when returning home from that perfect track day. Or why not when commuting to work – the TTX EC does it all. This is the ultimate upgrade for your street bike.
Using the conventional TTX 36 as a base, the TTX EC is coupled with advanced software to continuously monitor the riding behavior, how the bike responds to a certain riding style as well as chosen power modes. All this information is used to instantly change the setting of the shock absorber – while you ride. The result is a shock that always gives you what you expect, from a supple tour through the countryside to unparalleled performance towards the finish line.
This is possible thanks to the Öhlins Suspension Control Unit, SCU, which constantly chats with the control unit of the bike in order to react to your slightest intentions. The algorithms used are a company secret, but the results are obvious for anyone. This is, in our opinion, simply the best semi-active system currently available out there.
Features
Based on Öhlins TTX36 MK II technology
---
Perfect traction, stability and comfort on the track and on the road
---
The latest software and SCU developed by Öhlins Racing
---
Reads data and controls the shock instantly, riding style and bike behavior
---
Interacts with Öhlins OE steering damper on the Kawasaki ZX 10 R 2013
---
Fits both models from 2012 and 2013
---
No more click settings headache, Öhlins SCU does the job for you
---
New Electronically Controlled (EC) adjusters
---
Manual spring pre load adjuster
---
Manual ride height adjustment possible
---